SABINE WINTER: A SUMMER FAIRY TALE
Sabine Winter - for years now it is impossible to imagine German and international table tennis without her. However, this year was a very special one for the long-time andro ProTeam player:
In the women's 1st Bundesliga, Sabine was able to push her good playing form in the 2021/2022 season with an outanding 24 wins and only 5 loses. With her club TSV Schwabenhausen she reached the third place and crowned herself the best player of the season.
But that was far from the highlight:
"I waited a very long time for it (...) My first final was ten years ago, I'm happy that I always tried and now I finally made it!" Sabine is happy about her first title win in the women's singles competition of the German Championships 2022. Having already secured a gold medal four times in doubles, she finally won this year's singles final against Ying Han with a score of 4 to 2 (9:11; 11:3; 11:7; 7:11; 11:2; 12:10).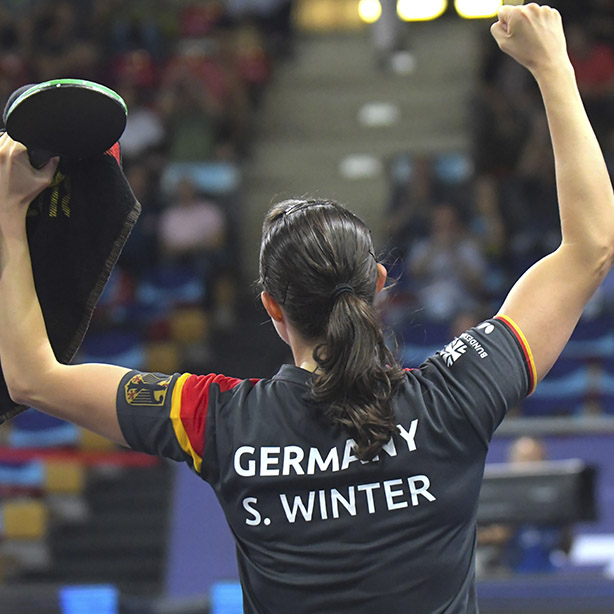 At this year's European Championships during the European Games in Munich, Sabine was not only involved as a flag bearer at the opening ceremony, but was also allowed to take a seat on the podium with a bronze medal. Only in the semifinals Sabine was defeated by the later winner Sofia Polcanova with 3:4. Looking back, Sabine views her performance at the European Championships as follows: "It was still fun, even though I lost the semifinal so narrowly in the end. I am also glad that I was able to keep the match close after my not so good start. This also created a good atmosphere in the hall and so I had a lot of fun in the end. (...) I can't criticize myself and in the end I'm really happy about the bronze medal."
Sabine still has many goals for the future, one of which is "to stand at the table at the Olympics."  In an interview with the Bavarian Table Tennis Association, she said in this regard that she would like to participate in the Olympic Games for the first time in 2024: "I will just train well, give my best and hope that I achieve good results, (...) [so that I] can maybe play a good role at the Olympics."
Sabine, we are keeping our fingers crossed for this goal!